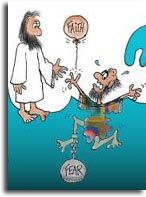 The early disciples of

Jesus

were constantly embarrassing themselves. How humbling it must have been to walk the dusty roads of Palestine with the

Jesus

revealed His highly tuned sense of humor and generous spirit as He carefully chiseled the lives of His

"rock-headed"

disciples into

"living stones"

that changed the world. If there was hope for them, then there is hope for me... and YOU!!